Why Choose Deck Replacement from Home Exterior Professionals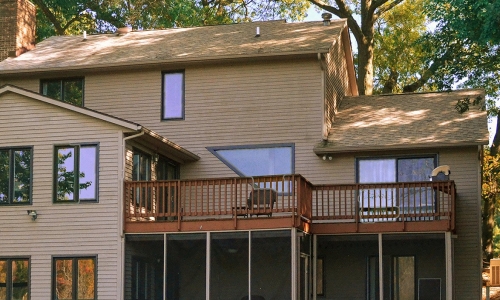 As we continue to have great weather outdoors, patio, porch, and deck replacement from home exterior professionals can become more appealing for homeowners who need to bring new life to their outdoor areas. The team at All Season Windows provides unmatched deck replacement services that homeowners have depended on time and time again. If your time spent outside your home is suffering because of a bad deck, our team can help.
Your home is important, so you should trust the big projects to home exterior professionals who have the experience you can count on. We pride ourselves in providing quality replacement for decks, patios, and porches, and will help you through the process every step of the way.
Age or damage
The two main reasons why homeowners consider deck replacement with All Season Windows is because of age or damage that their deck has faced. Without proper coats of sealant, wood decks can start to decay over the years, meaning that they eventually can become unsafe for use. Damage caused by storms, accidents, and more can also render the deck unusable for the same reason.
Whether a safety hazard or simply because it has lost its appeal due to the damage, All Season Windows helps you through the replacement process to ensure everyone can safely enjoy their deck outdoors.
A better process with professionals
Homeowners choose deck replacement from home exterior professionals because they know that when they do, they are provided with services that others can't give them. All Season Windows provides free inspections and quotes alongside our professional deck replacement services to ensure homeowners don't have to spend more than necessary to get their home's exterior back in working order.
We believe everyone should have an easy process when trying to bring their home back up to their standards, so we provide everything that homeowners need to safely enjoy the deck of their dreams.
From initial inspection to the final handshake, All Season Windows gives homeowners unmatched deck replacement services that they can always depend on. Whether you have a small deck a few feet off the ground or a tall-standing deck that is connected to an upper floor of your home, our team will get it back in working order through quality replacement. Contact us today to get your free inspection scheduled and start the process toward a better home exterior!