What is Exterior Door Replacement and How Does it Work?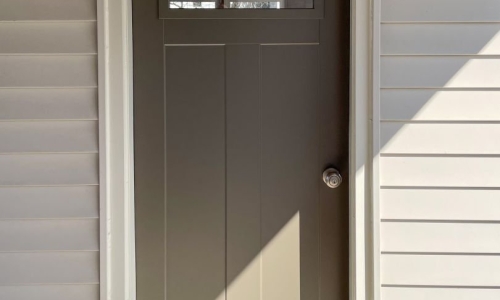 Exterior door replacement is the process of removing your old exterior door, which is often a more in-depth process than it might seem on the surface. Beyond the general preparation that the area by your exterior door must go through to get it ready for replacement, depending on the type of door the one being replaced is, how it was originally installed, and more, there may be different tools and techniques required.
All Season Windows provides exterior door replacement for any homeowner in need. Whether you are replacing your door because it is getting on in years and isn't working as intended or want to change the exterior look of your home, our team is here to help.
Preparation for replacement
Before our team is on the scene for door replacement, there are some steps you can take to make the process go more quickly:
1. Remove obstructing furniture
If there is any indoor or outdoor furniture that could get in the way of our work, we ask that the homeowner removes it to make sure we have the space to effectively work without damaging the furniture.
2. Remove decorations
Many entrances have pictures, décor, and more that All Season Windows asks you remove to avoid anything falling from walls or getting knocked over during the replacement process.
3. Keep pets and children away
Not only will the entrance to your home be open for a period until we fully-replace the exterior door, but there are also tools that could be dangerous to pets or children that are too close while we are working.
The replacement process
The first step of exterior door replacement is to remove the existing door. To do this, interior and exterior trim must be removed, with the option for the same to be used again after the process is done. Then, the opening will be cleaned and inspected to ensure a new door can be put in right away.
We then measure the opening to make sure everything lines up as intended. After, the exterior door is weatherproofed, leveled, put on installed hinges, and the handle, knob, and lock system are installed. Once new trim or the old trim has been put back in place, the door is ready to go!
There are different steps required for different exterior doors, so there may be some we aren't including in this breakdown. However, this can give customers of All Season Windows a good idea of what to expect and how to prepare for exterior door replacement to give their home a great new look. Contact us today to schedule your door replacement!