Siding Replacement Protects Homes from Future Problems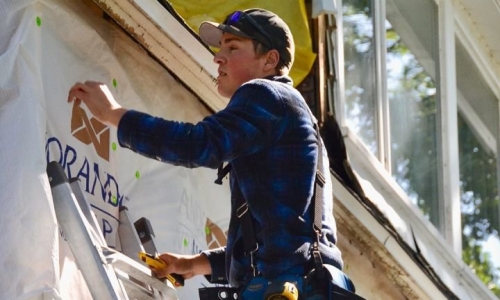 With winter just around the corner, siding replacement with a professional home exterior team can save homes from unnecessary future problems that they might otherwise face. Home exteriors are built in a way that best protects the structure and interior of a home, so when a piece of that gets broken or warped in some way, it is important to have a professional come repair the affected area. The team at All Season Windows has helped homeowners with their siding problems for decades, so you know that we can help you handle repairs before the snow starts falling too hard.
Protect insulation and drywall
Because siding is what helps to keep water out of your home, when it is damaged or cracked badly enough, you may have issues with melting snow sneaking its way into your home when winter comes. Insulation can become ruined from repeated exposure to water, mold may begin to form once it warms up again, and wood or drywall may become warped from soaking over and over. The team at All Season Windows knows how to recognize areas of your siding where these issues could occur and can give you the guidance and services to help make sure that repairs are made, and your home is protected as best as possible against the elements.
Siding replacement keeps out unwanted guests
During winter, mice can often find their way into homes to get out of the cold. To minimize the risk of one getting into your home, siding replacement should be done by a professional team, reducing the number of spaces that they might enter. The team at All Season Windows has performed siding replacement for situations of all kinds for homeowners in need, so, if you have an area that you think might be prone to rodents making their way into your home this winter, let us take care of it for you. From your first phone conversation, you will see the All Season Windows difference.
Our replacement services have been depended on by homeowners for years, from our free inspection to the final handshake. With a dedication to quality custom service and professional home exterior replacement and repairs, our team is your best choice for siding replacement before the upcoming winter season. Don't let the time get away from you by waiting on our helpful services; call a representative today and get started on protecting the exterior of your home!