Plan Gutter Replacement After Heavy Snows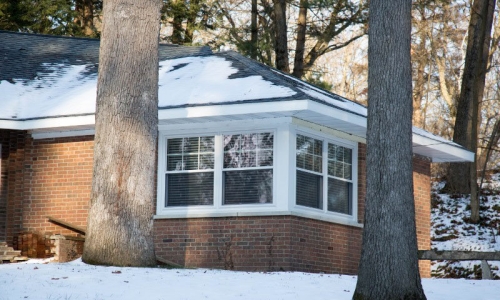 As we get further into winter, gutter replacement becomes a serious consideration for those who notice that their gutters are being weighed down by heavy snows. We have already had some early, intense snow this year, and, with the rest of winter ahead of us, we are sure to see more. Once that snow has settled, it can cause some strain on gutters that causes them not to function as they should.
All Season Windows is experienced with providing homeowners the quality gutter replacement they can count on when they need it most. Our team works diligently to get the exterior of every home we work on back into safe, working order.
Keep an eye on shape
With heavy snows causing weight on gutters year after year, the brackets that hold them in place may become bent or outright unattached. If this happens for too long, the gutter itself may start to lose its shape, often bending downward near the middle. When this happens, it no longer drains properly, as rainwater and debris start to collect in this dip.
All Season Windows offers gutter replacement when this happens, helping your home to stay better protected. When snow melts and your gutters aren't draining as they should, you may end up facing structural problems with your home that would otherwise be avoided.
Find the problems early
When any problems with your gutter start, it may be hard to notice if you are unsure what you are supposed to be looking for. This is especially problematic when snow is covering the top of the gutter, not allowing you to see what is going on with it if you suspect an issue. Rather than take a guess whether your gutter is in good condition or not, you can instead trust in a team of home exterior professionals to get it looked at.
The experienced professionals at All Seasons Windows are well-versed in finding your gutters potential problems. With a keen eye, our team lets you know if and where we find problems in your gutter system, and whether we think that they should be replaced based on what we see. We always strive to do right by our customers, so our team is honest and provides the best gutter service available.
As the premier home exterior company, All Season Windows is your go-to gutter replacement service. If your gutters have faced a lot of wear and tear this holiday season, contact our team to learn what replacement options are available to you!