Make Your Home Look Like New with Quality Siding Replacement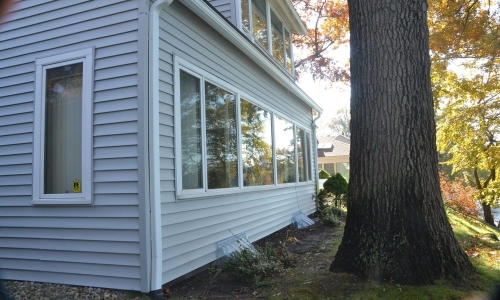 Whether age has gotten the best of your home or you live in conditions that are causing outside elements to harm your home's exterior, All Season Windows provides siding replacement to help you refresh your home with a new look. Our team of professionals have years of experience in the housing industry, and our resources and capabilities are what you can count on to get your siding to the condition it needs to be.
Hard on the home
Obviously a home in the middle of farmland experiences different conditions than a home on a major lakefront, but both can still get the great siding replacement offered by All Season Windows. Whether your home is facing extreme weather each winter because of lake-effect snow that is doing a number on your siding, or your home is in an area that is prone to algae and moss that has grown over much of your siding and ruined some of it, the professionals at All Season Windows will help you replace it all quickly and efficiently to ensure your home's exterior is keeping it safe.
Tried and true
When All Season Windows replaces your siding, we use vinyl, the number one choice for homes when it comes to siding. This is because it is durable, weather resistant, and simple for you to maintain and keep clean. All Season Windows offers a variety of colors to choose from for your siding replacement, so, if you really want to change how your home looks when making repairs or replacements, we've got you covered. We make sure to always have different options in stock for our customers and promise that when you work with us, you're working with the best in the business.
Giving you a reliable source for your siding replacement, All Season Windows provides the products and services you need to help make your home look like new. Contact us today with any questions or to get started on your siding replacement!