Gutter Replacements Help Protect your home from Spring Storms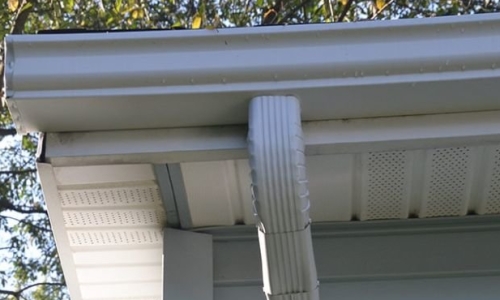 Your gutters might not be the first thing you think about when you consider your home's exterior this spring, but they serve an important purpose in protecting your house from water damage. Spring often brings with it heavy rainstorms, and when working properly, your gutters should move storm water safely away from the area around your house, protecting it from any water damage that spring storms can cause. The changing seasons, clogs, and more can damage your gutters, and if you've noticed your gutters are sagging, or aren't draining water properly, or are damaged visibly, it's time for you to consider having your gutters repaired, or even replaced.
All Season Windows is ready to help, our team is experienced in gutter repair, providing homeowners throughout Southwest Michigan's highest quality gutters on site, you can count on All Season Windows to bring your home the gutter repairs and replacement it needs.
How to spot a damaged gutter
If you notice that your gutters aren't draining properly, whether there's water spilling out of the gutters or if they are collecting water and sagging, your gutters are likely damaged. Without properly functioning gutters, rainwater won't be carried away from your home, instead falling closer to your home's foundation. Even though it lands outside your home, it can still damage your houses interior. Water damage from improperly draining gutters can damage your home's basement and foundation, which can lead to expensive repairs. If you suspect that your gutters are damaged, and can't tell, All Season Windows offers free inspections. Providing some of the area's best advice, our representative will help you to address any problems not just with your gutters, but any other issue your homes exterior might have.
Superior Gutter Replacements
If you need gutter repair or replacement this spring, All Season Windows is ready to not only replace your home's gutters, but also to improve them. Gutter replacement from All Season Windows doesn't mean that we'll just replace your home's gutters with generic products. Instead, our team will craft a whole new gutter out of a custom rolled piece of aluminum. Seamless and long lasting, your home's new gutters will provide it with years of protection from water damage.
With experience in gutter repair and replacement, All Season Windows is ready to help you make sure your home is protected from water damage this spring. For more information on our repair services, contact us, or request a free inspection today!