Fix Seasonal Damage with Deck Repair Services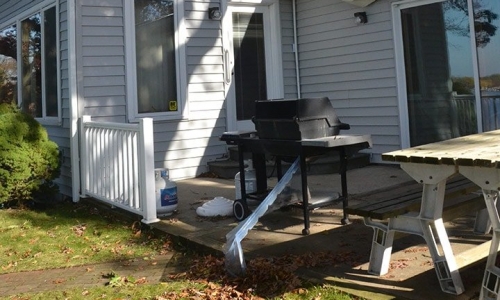 As we know, changing weather in winter can sometimes cause damage to parts of our home, and that is why All Season Windows is your dependable source of deck repair when you need it. Our team of professionals helps homeowners to ensure that the exterior of their home is kept in pristine condition, and the deck repair services are one way that we do this.
Seasonal problems that arise
So what is it about winter that causes troubles for outdoor decks? If you are in an area where heavy snowfall is common, your deck may face additional strain because of the weight of the snow on your deck. This, over time, may cause damages that will start to become apparent as yearly snowfall takes its toll on your deck. If you are removing snow from your deck, you also may accidentally damage the deck in the process of removal. Depending on the material of your deck and shovel, vigorous snow removal may unintentionally cause harm to the deck. Whenever these issues happen, All Season Windows can help your deck get back to its best form.
Our deck repair services
With a focus on quality, our deck repair services will help your deck look pristine and fresh once again. We provide free inspections and can provide the most accurate quote for your repairs that might be needed. Then, we make the necessary repairs to help bring your deck back to functionality and dependability for you to use it and enjoy it into the future once again. Whatever your deck needs, All Season Windows has the knowledge and experience to best help.
Providing the exterior of homes with the professional help they need, All Season Windows will take care of your deck now that winter is making its way out. With deck repair services any homeowner can count on, All Season Windows has your back.