Deck Repair Fixes Winter Damage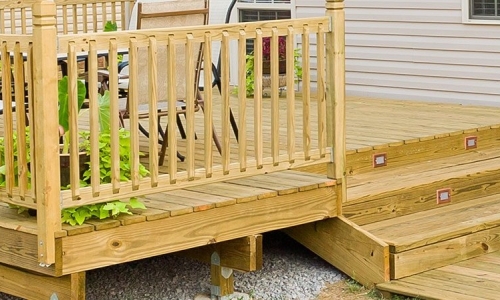 When you have a deck that gets snowed on each winter, deck repair from a team of professionals is a great way to fix damage sustained during the season. Decks must be carefully treated in order to withstand the winter year after year, so, when they aren't, repairs are the best way to get your deck back to peak condition.
All Season Windows provides deck repairs for any homeowner that needs to get their deck quality care. A deck that is in complete working condition not only provides a more enjoyable outdoor experience when warmer weather is here, but a safer one as well.
Where damage happens
Damage on a deck can occur in a few different ways during the winter. One of the most common is lack of a proper sealant for the deck in the face of ice and snow. When these melt and are absorbed by the wood of your deck, it can warp the wood, cause it to rot, and generally weaken the structure of your deck. Shoveling snow off your deck in winter is another potential risk, as not shoveling with the boards or shoveling with something other than a plastic shovel may cause damage.
When our experts perform deck repairs for your home, our team can help to recommend any maintenance that you might need to learn more about to protect your investment. We want every customer to enjoy their deck for years to come, so make sure yours is protected by taking the right steps to preserve its condition.
We've got you covered
After winter snow has melted, and damage to a deck has revealed itself, it is then time to consider getting your deck inspected and repaired. Using a damage deck can be dangerous, so it is important to get repairs done before heavy use of your deck comes in the late spring and summer.
With the professional deck repair offered by the team at All Season Windows, your deck will get the attention it needs, when it needs it. Our team's rapid response times to the needs of our customers and dedication to quality services are what makes All Season Windows stand apart as the premier home exterior team.
Reduce the risk of accidents on your deck by ensuring it gets the necessary repairs throughout its lifespan. With All Season Windows on your side, your deck will always get the best work done so you can safely enjoy it year after year.