Condensation from Window Replacement and What it Means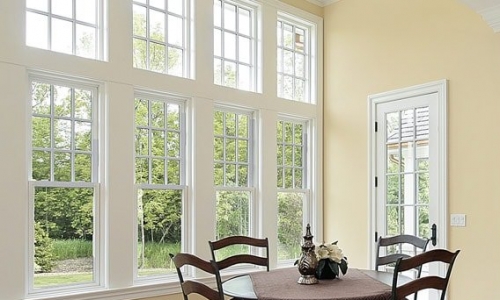 If you have recently had window replacement with All Season Windows and are wondering why you regularly see condensation now that our mornings are getting cooler, our team is here to help explain this new phenomenon. When exterior condensation forms on something, this means that the dew point temperature starts to approach the outside air temperature, air outside has become saturated to the point of not being able to hold any more moisture, and vapor starts to form droplets on things, such as your new windows. This is a completely natural occurrence, and means that your new, quality windows are acting as a proper barrier for your home.
Better efficiency from your windows
Dew forming on your windows may be a surprise, but it is not a bad surprise, because it means that your new windows are functioning more efficiently than your old ones were! When it was cold outside with your older windows that didn't have dew forming on them, this meant that warmth from your home was reaching the outside glass pane, which warmed it and dissipated any moisture that had formed. Your newer windows do not allow warmth to escape in this way, which leads to a colder pane, meaning that dew will form like it does on other parts of the exterior of your home.
Window replacement means better insulation
When you have window replacement done by All Season Windows, this new condensation means that your home is staying better insulated than before, which can help your heating bill during cooler mornings. Plus, as the weather outside begins to warm after a cool morning, the condensation forming on your windows will dissipate when the outside air temperature increases, the same as it does on grass, your siding, and any other surface outside. Quality windows are ones that do everything to benefit your home in the best way possible, and the windows you receive from All Season Windows will ensure that your home stays more comfortable without needing to produce extra heat because of heat loss from your windows.
Always aiming to provide personal and professional window replacement services to every homeowner that we help, All Season Windows can get your home the efficient, energy saving windows that you have been looking for. To learn more about the windows that we provide or the services related to them, reach out on our contact page or give us a call today!