Complete Outdoor Gutter Replacement Before the Holidays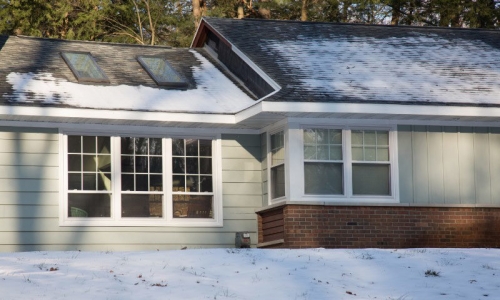 As the holidays approach, so too do heavy bouts of snow, and the gutter replacement from All Season Windows can help your home better manage the precipitation. Whether you are the owner of a home big or small, ensuring that your gutters work for the winter can save you future headache by properly draining all precipitation where it needs to go.
Avoid potential wear and tear
When precipitation is not effectively managed by your gutters, there are different problems that can come about from it. If we experience any last-minute fall rains before the winter season, gutters can save parts of your property from unnecessary flooding. When water is not managed from rainfall, it can pool in areas of your yard that it is not intended to, which may end up causing erosion of soil, and potentially flooding of basements. As winter brings snow that will fall, then melt over and over, a similar problem can occur. With the professional gutter replacement offered by All Season Windows, you can feel safe all winter long knowing that you took the proper steps to effectively protect your home.
Made to fit
When you work with All Season Windows, you know that you are getting the best in the business for your gutter replacement. Custom rolled to your specifications, we create the perfect fitting gutter every time that we are brought in to help. This allows the gutter to be seamless on your home and fit wherever you need it to drain away from your home. Our team has worked with houses of all shapes and sizes, so we know how to help you get the gutters that best serve you.
Here whenever you need us this holiday season, All Season Windows will give you the best gutter replacement available to your home. Invest in protection for your home and property today by scheduling with us!